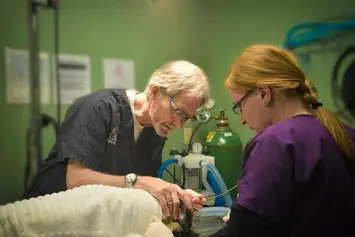 Dr. Miller probes a patient's gums for periodontal pockets while Kati, RVT, assists and monitors anesthesia.
---
We emphasize good oral health for a long healthy life. To promote good oral hygiene for your pets we offer: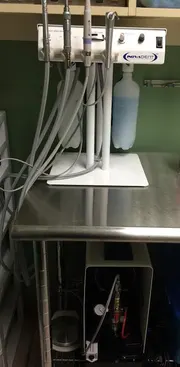 Annual or semiannual prophys (cleanings)
Digital Dental radiology
Periodontal therapy and surgery
Endodontics (root canal)
Advanced exodontics (extraction) techniques
A Complimentary post-dental recheck with you to discuss home care and long-term maintenance
All dental cleanings and surgeries are performed with the most up-to-date equipment available, ensuring a quick and thorough procedure for your pet.
In addition to the dental care provided by our hospital, we also carry many helpful products to assist you in keeping your pets teeth clean and healthy after his or her routine cleaning! Ask our staff for more information regarding OraVet products, Royal Canin Dental diet, Perio-Support powder and treats, and Chlorhexidine oral rinse.
---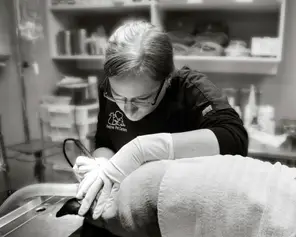 Kati, RVT, performs a dental prophy on a patient.
---