Lifetime Pet Center of New Richmond is proud to serve New Richmond and the surrounding community for all of their pet-related needs.
Our Mission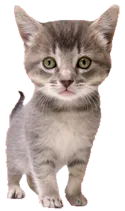 It is the mission of Lifetime Pet Centers of New Richmond to be your family's pet healthcare provider, offering the highest quality care from their first pediatric visit until the final days of their life, using the most modern technology available. Our doctors and staff will practice the highest ethical standards and strive for continued education to remain at the forefront of our profession so we may better educate our clients on wellness care to extend their pet's quality of life. We promise to care for and love your pets as if they were our own. This we pledge to our clients.
On each visit you will see the same faces. Our staff love their jobs and their patients. You will always find a smile and rarely meet a stranger. We want you to always feel welcome and we will strive to earn your trust. We all have our own pets, allowing us to understand the strength and nuances of the human-animal bond. This better enables us to understand any anxieties you or your pet may have when visiting with us.
We want to share the joy of your pet through the adolescent, teen age, and adult years. We will guide you through the mature years as healthcare needs increase. We are compassionate people and look forward to sharing your great adventure with your pet. We consider you and your pets as part of our extended family.
Our team will attempt to accommodate all requests to the best of our ability, please check the bottom of this page for hospital hours. Emergencies are accepted anytime our clinic is open. If you feel you have an emergency with your pet, please call us or come to the hospital immediately. If possible, it is best to call before coming in so that a staff member can advise you on your particular emergency.
Lifetime Pet Center of New Richmond accepts payment via cash, check, MasterCard, Visa, Discover, American Express, Care Credit, or ScratchPay. So that we can continue to provide you high quality service utilizing the best medical technologies, we request that payment be made at the time services are rendered.
We provide estimates for all surgeries and hospitalizations as requested.
Diversity Statement

Lifetime Pet Centers actively promotes and recognizes principles of fairness, equity, and social justice in relation to, and across, intersections of race, age, color, disability, faith, religion, ancestry, national origin, citizenship, sex, sexual orientation, social class, economic class, ethnicity, gender identity, gender expression, and all other identities represented among our diverse population.
By appreciating the importance of inclusion, we acknowledge that the collective and individual talents, skills, and perspectives of our community, employees, and clients foster a culture of belonging, collaborative practice, innovation, and mutual respect.