1. Payment is expected when services are rendered. In order to focus on our patients' needs, customer service, and minimizing costs, we do not bill in-house. If you need pet care financing, please see below for more information about Scratch Pay.
2. We accept debit cards, credit cards (Visa, Mastercard, Discover, American Express, CareCredit) checks and cash. Valid ID is required when a card or personal check is presented. We will only accept checks that are authorized by our guarantee service.
3. Scratch Pay is now available. You can apply for pet care financing online, and receive a decision with payment options in less than two minutes. Visit their website to learn more!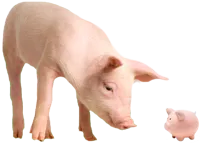 Insurance For Your Pets
Another popular option for your family and pet is insurance coverage. For a comprehensive pet insurance evaluation tool the Ohio Veterinary Medical Association now recommends www.PetInsuranceQuotes.com. Here you can get quotes from 9 of the 12 existing pet insurance companies and compare plans. This site also offers other tools and resources to help educate you about pet health insurance.
We also offer customized wellness plans with Pumpkin! Click here to learn more.