Your pet's first wellness exam with us is free when they receive vaccines and bloodwork!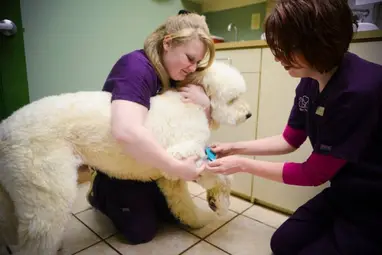 A wellness exam is for any patient that does not currently have any severe health concerns. Some conditions do apply in order to be eligible for this discount. Please read below for more information:
This discount cannot be combined with any loyalty reward discounts.
Only healthy patients are eligible for the free first exam. We cannot see sick patients for a free exam.
Your pet must receive due/ recommended vaccinations and bloodwork during the exam.
One free wellness exam per patient.
Cannot be combined with any other discounts, including the senior discount. If you have a Golden Buckeye card you may use it during your subsequent visits.
If other services are to be rendered during the free wellness exam your pet must be up-to-date on their rabies vaccination or receive one during the exam.
Patients that are being seen for Clermont County Health Department bite exams or health/travel certificates are not eligible for this discount under any circumstances.
---
We reserve the right to limit the use of or discontinue this discount for any reason at any time. If you have any questions regarding this discount, your pet's eligibility, or their general health please call or text us at (513) 553-9954. Thank you!